WELCOME IN GERMANY'S BIGGEST WIND TUNNEL
You have passed your first flights in the wind tunnel and are ready to start with your new sport "Indoor Skydiving" right away?
Your already have adequate experience and are in search of a proper wind tunnel for your training?
You are already a trained skydiver, or you attend the AFF course and want to improve your flying skills in the wind tunnel?
We can offer you that and much more here at Hurricane Factory! On this page we inform you as a Pro Flyer about every topic around our big mutual passion "Indoor Skydiving". Push your skills und train in the biggest German wind tunnel!
Don't miss any news and subscribe to our Pro Flyer newsletter to stay up to date with actual flight and coaching offers as well as camps and events of the Pro Flyer community.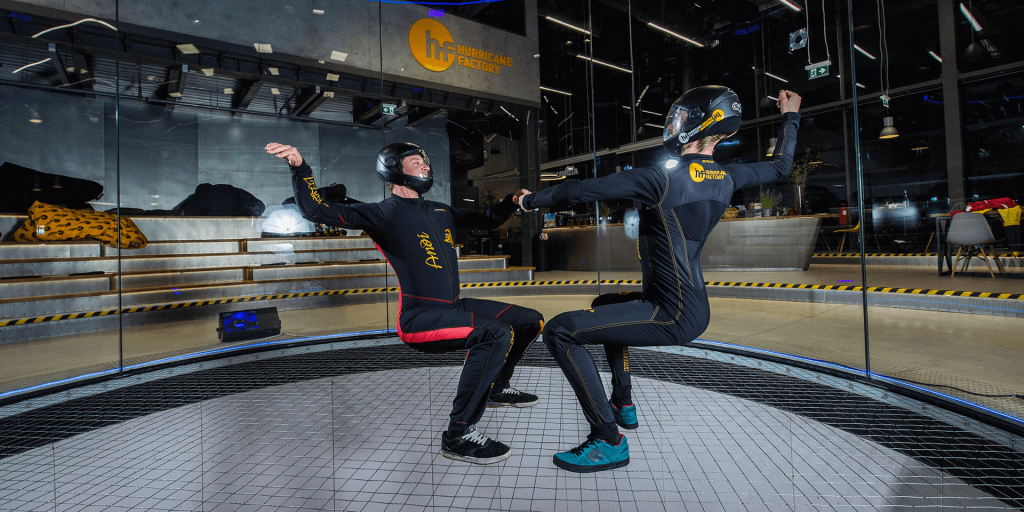 Improve your skills in Germany's biggest wind tunnel – on your own, with friends or together with your team. And if you like to enhance your craft, our professional coaches are on your side.
We also have interesting, combined packages for indoor and outdoor skydiving – take a look at our various sky products.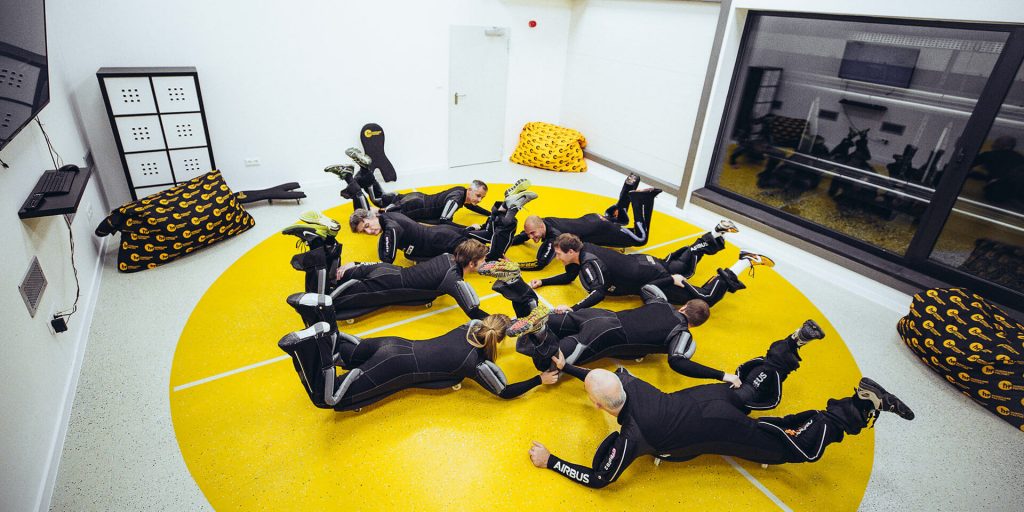 Numerous camps and events for Pro Flyer take place in our wind tunnel. Whether formation skydiving or freeflying – take a look at our event calendar and pick the fitting event!
For the participants of our camps also accommodation at the Hurricane Factory sports floor is possible on request.
DO YOU HAVE ANY QUESTIONS?
EXKLUSIVE AREA FOR PRO FLYER
Our sports floor at 4th level is exclusive for Pro Flyers. The sports floor provides:
two generous briefing / debriefing rooms with 5.2 m creeper circles
video stations with access to all 4 views from the wind tunnel
changing rooms with lockers
toilets and showers
towels available free of charge
gratis mineral water
fitness devices
sunset terrace
simple accommodation on request
We also champion the small flyers, therefor we offer children between 5 and 14 years who already have some flight experience (at least 5 minutes), individual coaching. Our instructors practice together with the offspring and teach them safe flying and new tricks in a playful manner.
INDOOR SKYDIVING DISCIPLINES
THE DIFFERENT DISCIPLINES OF INDOOR SKYDIVING
Indoor skydiving includes several fascinating disciplines, which range from classic disciplines, that were adopted from skydiving, to modern disciplines, that have been developed in the wind tunnels worldwide during the last years and have meanwhile been established in international competitions.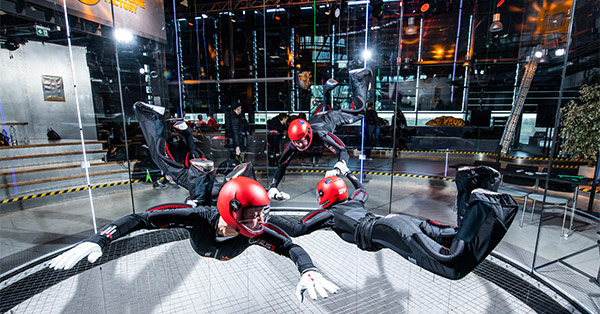 This classic discipline has its roots in skydiving and can be performed in the wind tunnel without major adaptions. A team that consists of 2 to 8 persons flies in face-down position and shows particular formations which have been allotted before. The team that flies the most of those formations in a given time without mistakes wins.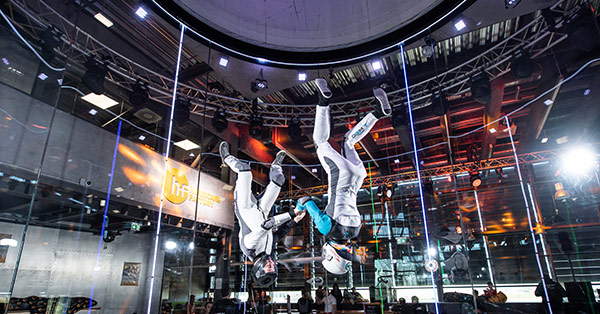 VERTICAL FORMATION SKYDIVING
This discipline is similar to Formation Skydiving, just with the difference that the flyers are not in a face-down but in a vertical position (upside down or seated). Thereby the flown speed increases and also the complexity of the requested formations.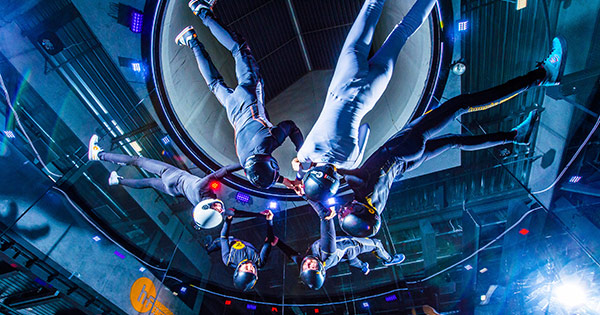 Dynamic Flying arose in the wind tunnel and is the technically most demanding discipline. It requires from the two or four flyers the flying of previously determined motion sequences and lines against the clock. For mistakes the team gets a time penalty, and the team with the fastest time wins.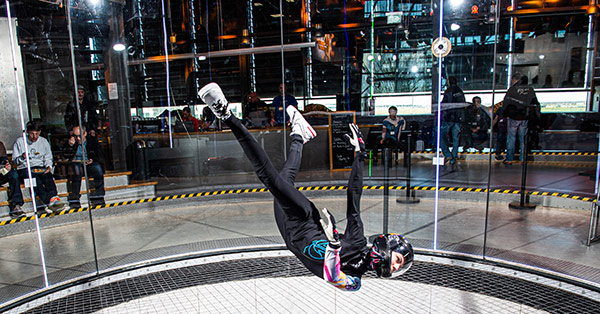 Not only a very popular but also beautiful and artistic discipline of indoor skydiving. A performer flies a previously rehearsed choreography, mostly accompanied by music. The level of difficulty, presentation and performance will then be rated.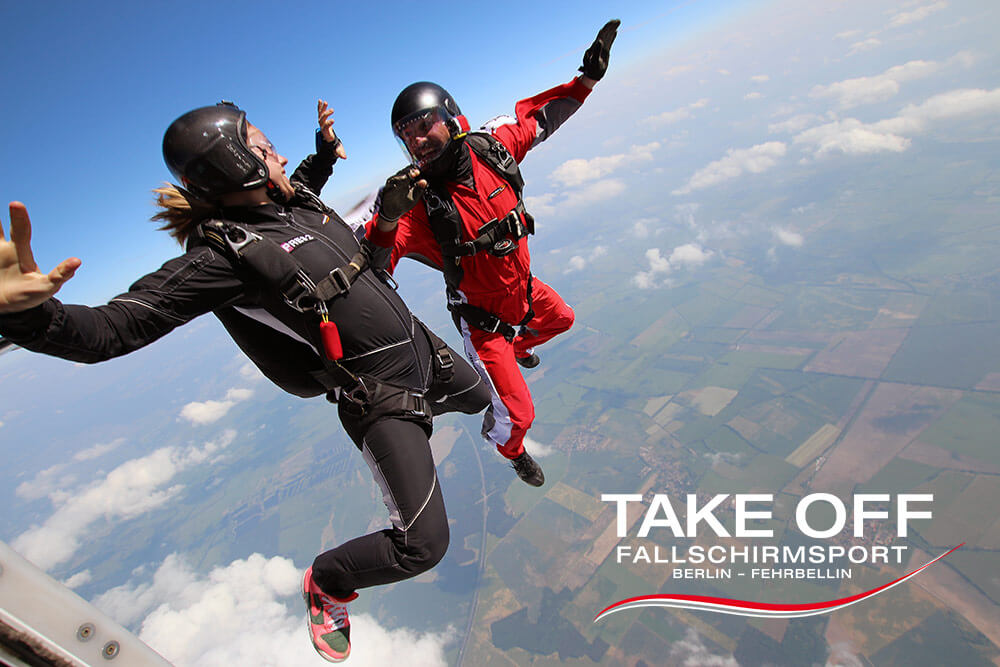 Together with our partner TAKE OFF Fallschirmsport we offer indoor and outdoor coaching, training camps and tandem skydiving.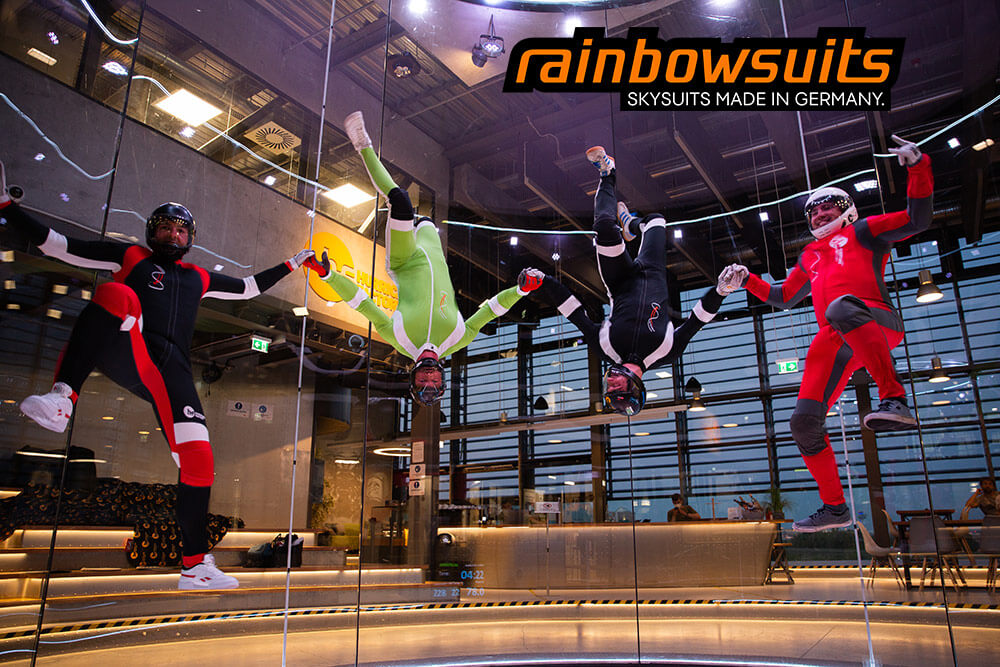 At Hurricane Factory you can test rental suits from rainbowsuits, have your measurements taken and order your suit directly on the spot. As soon as your suit is ready it will be delivered to our wind tunnel, and you can fly directly with your new suit at the next visit.
YOUR WAY TO CERTIFIED INDOOR SKYDIVING INSTRUCTOR
With our certified trainers we are able to qualify you at Hurricane Factory as indoor skydiving instructor. In the process you get to learn everything about the technique of the wind tunnel and also how to ensure a safe performance of our sport in- and outside the wind tunnel. Besides the secure moving in the wind tunnel at different speeds, the briefing of first-time flyers and their safe attendance in the wind tunnel belong to the training elements as well as the guiding of prospective Pro Flyers and the support of their learning process.
If you are interested to become a certified indoor skydiving instructor or have any further questions, please contact our sports management under: proflyer.berlin@hurricanefactory.com.