Hurricane Flyers Club in cooperation with HF Praha organizes various sports events throughout the year. In January, we usually start with the Czech Open – national indoor skydiving championship and over the course of the year we continue with various other competitions (FS 2way, 3way scrambles, etc.) but also various camps for beginners and advanced, with shared times, with different coaches, from among our instructors or outside of them .
For up-to-date information, you can join our sports FB group Sport @ HF Prague or check this website every now and then.
SHARED SPORTFLYING for beginners
Have you already flown with us a few times and would you like to move on?
Shared flying for beginners offers you the chance to meet people who are at a similar stage and start flying together. Gradually, you can create a team and start taking up indoor skydiving as a sport or flying hobby.
Take advantage of Hurricane Factory Praha's offer, which will provide a formation belly flying instructor for FREE to those who pre-register for flying on Tuesday evenings. These instructors will be happy to help you with your training and show you the way to go on in this sport through the discipline of formation flying, where flyers perform various formations, spins, climbs, descents, etc. while flying on their stomachs.
Formation flying has a great advantage of sharing the flight time, and thus lower costs for individuals practicing this sport. From the beginning, each participant reserves 10 minutes of sportflight time for the training at a price of CZK 3,500. When possible, flying in groups will start. When sharing the time with one other flyer, each person pays 1,750 CZK/10 minutes, and when sharing the tunnel with two other flyers, it will be 1,267 CZK/10 minutes. In case of HFC members, the prices will be even lower.
Individuals can train 1-4 times a month according to everyone's possibilities.
In case of interest or questions, contact us at sportflight.praha@hurricanefactory.com.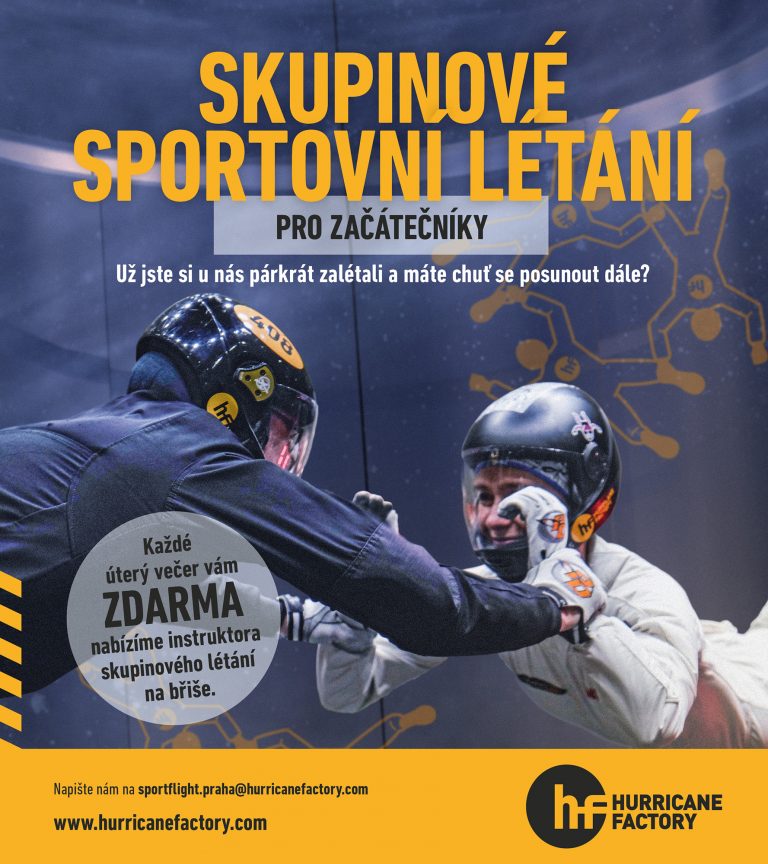 Have your kids to join periodic FS wind tunnel flying trainigs
The Czech Republic is one of the world leaders in wind tunnel flying, also thanks to the excellently organized flying program for children, behind which stands Jan "Gejza" Klapka. Some of those who signed up for the program a few years ago are already bringing medals from the World, European Championships and World Cups and are also world record holders. This young sport has a great potential.
Do you want your children to start flying regularly as well?
Are they 8-10 years old?
Physical ability is welcome, but not a requirement.
Contact us at sportflight.praha@hurricanefactory.com and register your child for three recruitment events, during which each participant will fly for a total of 30 minutes. Those who like flying will then have the opportunity to get into the selection of 5-10 children who will be included in the training program. The price of three recruitment events is a total of CZK 8,000.
The conditions of the program are further:
participation in weekly training sessions (on Mondays)
CZK 2,000 / month (i.e. CZK 20,000 / school year)
participation in training sessions during the school year (transportation and accommodation costs must be paid, usually CZK 3,000 per event)
later also participation in competitions abroad (need to cover transport and accommodation costs, usually 3,000-5,000 CZK)
Equipment:
At the beginning, we will provide suits and helmets for children. Gradually, however, it is good for the child to have his own helmet.
We look forward to hearing from you at sportflight.praha@hurricanefactory.com.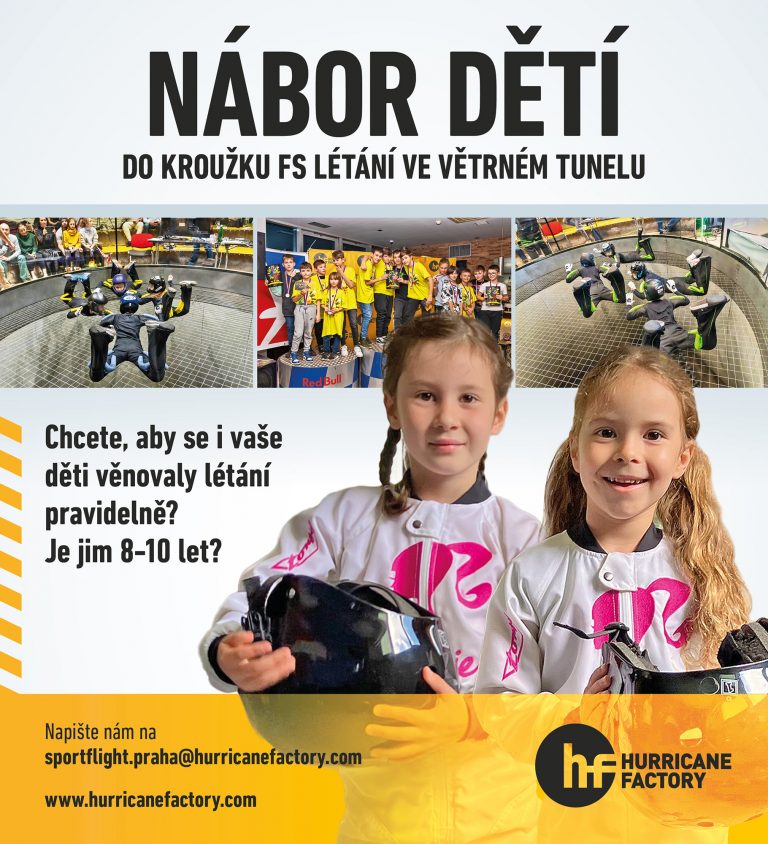 Below you can read about events that have already taken place this year. Do you find any of them interesting? Do you want to know if and when we plan to repeat it? Do not hesitate to ask us. For example, at sportflight.praha@hurricanefactory.com.
Free coaching for HFC members
Half price coaching for non-HFC members
Date: 5.4.2023 | 12.5.2023
Are you into sportflying and do you want to work on your flying skills with our instructors? Take advantage of this offer.
How to do it?
1) Make a sportflight reservation for 5.4.2023.
2) Write to praha@hurricanefactory.com that you are interested in free / half price coaching and how advanced the coaching will be.
3) Enjoy the flying!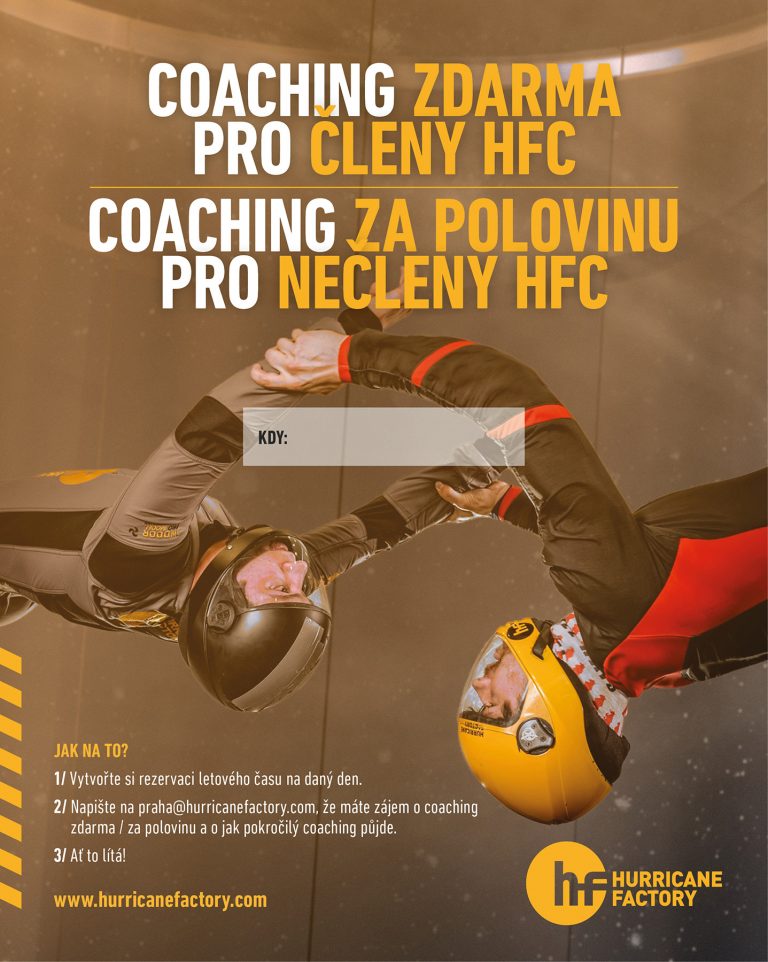 Belated Valentine FS2 Cup 2023
Date: 24.3.2023 | Time: 17:00
Can you belly fly and want to have some fun?
After a long break, our 2way competition is here again! We hope to get enough competitors this time!
Grab a significant other or a friend and come compete! The only condition is a stable position on the belly!
More information at e.turkova@hurricanefactory.com!
Send applications to the above email -> we need the names of the members and the name of the team. Applications can be sent no later than March 17, 2023!
Price for HFC members CZK 2,500/team & price for non-HFC members CZK 3,000/team!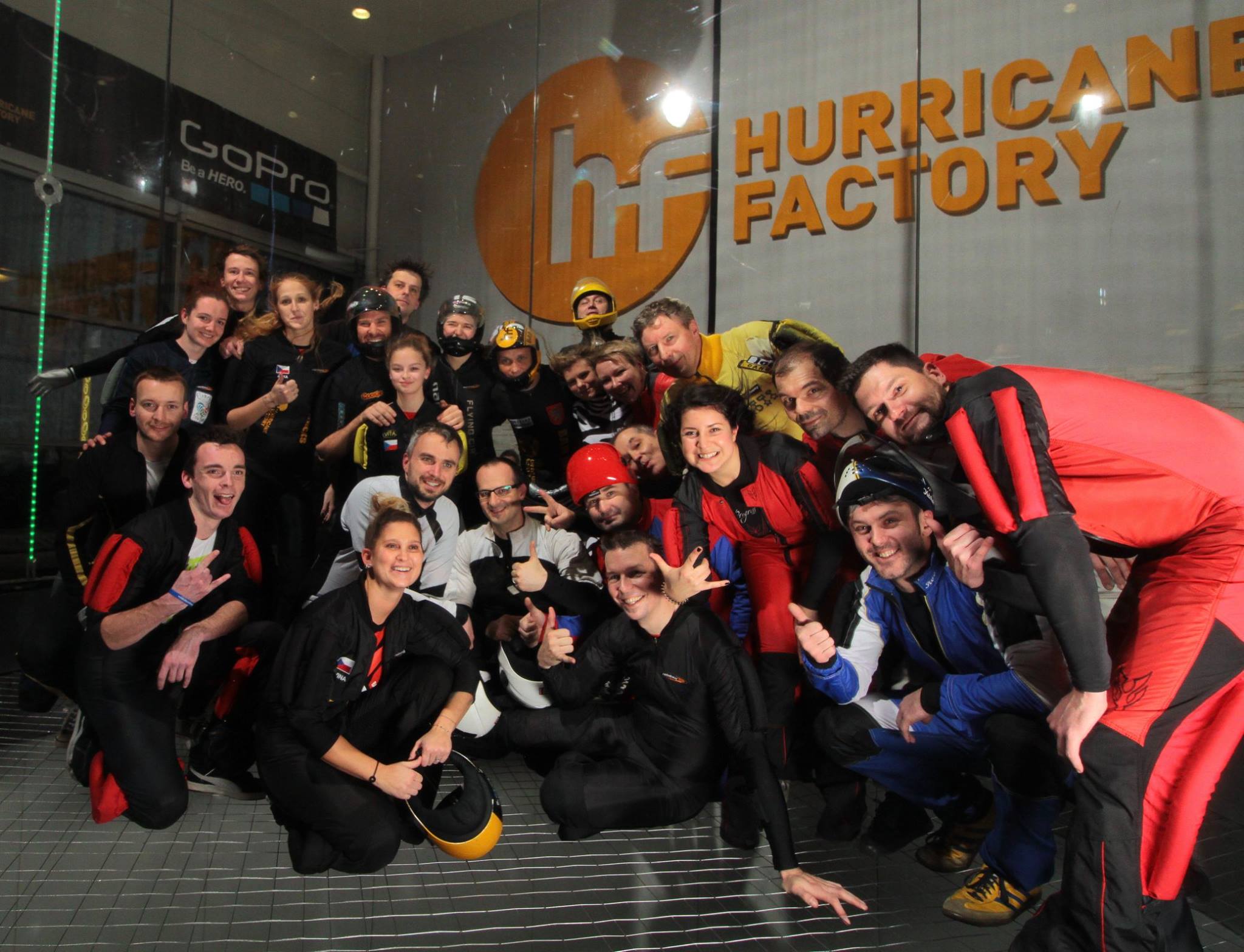 60 SECONDS
IN HURRICANE
FACTORY
Equivalent to a plane jump
SAFE
AND FOR EVERYONE
From 5 to 100 years
FOTO
AND VIDEO
Available after flight